The first thing you must be thinking about before even starting building your resume is what format to choose. Yes, it matters a lot. The types of resume says a lot about the applicant even before the recruiter starts to read the information in the resume. Just by a quick glance at your resume and recruiters come to a few conclusions about you. The format has quite an important role in your resume.
This is the reason one needs to choose what format fits best for them or their resume. Not just any random format could benefit you. So, which resume is best for you entirely depends on two factors, they are as follows:
Where you are in your career road? &
How relevant your work history is to your desired job?
So, make sure you choose what format fits you best according to these. There are 4 standard and most used resume formats each serving their own purpose. They are all different from each other in the sections you add and the content of the resumes while using a particular format. So, here are 4 most used and popular resume formats that work for almost everyone around the world.
1.Chronological:
The chronological resume format is the most popular resume format out there on the internet. The go-to format for most of the people is this. The chronological resume format mostly focuses on one's educational qualification and work history. This is the reason this is the most popular and most used resume out there. Unfortunately, this format is not for everyone. 
This format works for the people with their previous job mostly similar to their new desired one. This makes them show their experience of work in the resume itself. This format doesn't work for a fresher or one who seeks an entry-level job. This resume format is not for people with gaps in their work history and ones with less GPA. This format is not the best for those who seek a career change. 
The reverse-chronological resume format is mostly used which is the same as chronological but the order goes from the latest to older events in his/her life.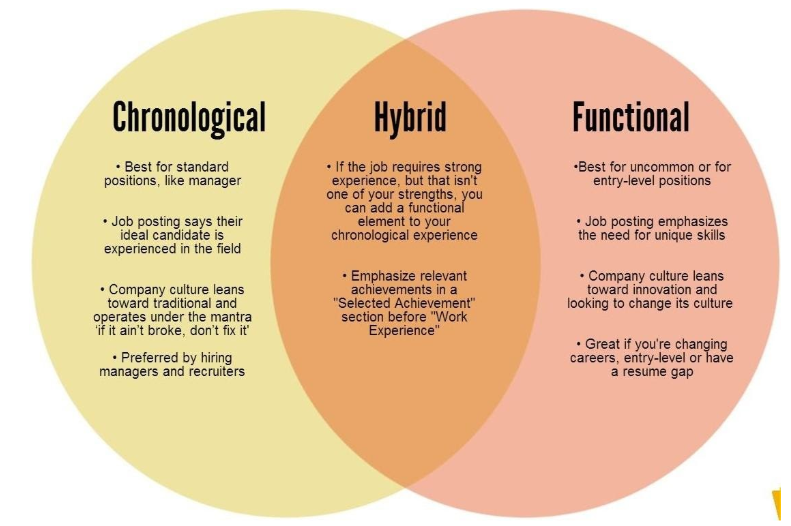 2. Functional:
The functional resume format is the most common resume format for recent graduates. The functional resume format mostly focuses on skills and previous experiences. Experiences don't mean past work, it means any relevant internships, paper publications, etc. As this format mostly focuses on the set of skills one acquires that are required for the job, the recruiter's focus is mostly on how well his/her proficiency in those skills. 
This resume format is best for new graduates as they have no work experience. This format also works for the ones who opt for a career change.
3. Combination:
This is considered as the best resume format by many people so far because of this the result of a combination of all the best aspects from chronological and functional resume formats. This format focuses on skills and experiences from the functional side as well as the work history from the chronological side. This is considered to be a win-win strategy by most people. 
This works best for people with less GPA and the ones who have gaps in their work history but the previous work and experiences are somehow relevant to the requirements of the desired job.
4. Target:
The target resume format is the most difficult resume format among all. But it has its advantages. It is quite difficult to make, but it's totally worth making it. The target resume format is a format in which from the top to bottom of the resume solely contains a single solid purpose of getting hired for a particular job at a specific company. This takes a lot of time to make. 
These are done mostly by professionals or get tailored by them. This resume format works for world-class jobs and jobs with a great reputation. These jobs are not for everyone. They are for some selected individuals who are highly qualified to have them.
In short,
| | |
| --- | --- |
| FORMAT | WHAT IT SAYS ABOUT YOU? |
| Chronological | You are well experienced and opt for a company change. |
| Functional | This shows you are a newbie to the job and have no similar experience. You opt for a career start/change. |
| Combinational | There is a little gap in your work history or have not so good educational qualifications. |
| Target | You are specific and passionate to get this job |
Conclusion
So, these are the 4 most used resume formats and each tells a different story about you in first glance. So, depending on the format you use and the recruiter changes his/her opinion. Make sure to use the resume format which works best for you. We suggest using online resume building websites like cvDragon which does most of the work for you in no time.