A LinkedIn profile is a great tool to build a personal brand that helps you connect with colleagues, business partners and employers. It is a one-stop destination for job applications, networking, earning recommendations and updating you about the latest industry trends.
A LinkedIn profile allows you to showcase achievements and skills and engage directly with Recruiters. So, it is important to create a LinkedIn profile that captures their attention instantly.
Below, we have mentioned some 'things to consider on a LinkedIn profile' that will help you achieve that.
#1: Profile Picture: Content Marketing Managers at LinkedIn advise that uploading a profile picture is important in today's digital age.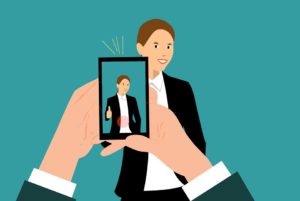 TIPS
Upload a recent profile picture not more than 6 months old.

Don't post selfies or group photos, use close-ups where the upper part of the body and face is clearly visible.

Avoid photos with sunglasses, hats or masks.

Ensure you're properly visible and your face occupies about 60% of the image.

Appear professional and look your best self.

Make your Profile Picture publicly visible to make it easier for contacts to recognize you.
#2: Location: Select your location and choose how it appears. Use suggested locations if your current location is not available.
          TIPS
Choose and select Country/Region from the pop-up window. This is a required field

If the name of your city or town doesn't appear, enter a Postal code closest to the location.

Save your location to start appearing in area searches.

Update your location to help Recruiters find you easily.

Location helps companies narrow down their search and increases your chances for connections.
#3: Contact Info: An out of date contact info results in lost opportunities. Many Recruiters use LinkedIn direct messages to connect with applicants while some prefer emails or phone calls.
         TIPS
Keep contact info accurate and updated from time to time.

Include your own phone number and not somebody else's.

Include a work phone number or email if you're using LinkedIn for Business.

Use a professional email address like johnsmith@gmail.com. Create one if your current email address is inappropriate.
#4: About: It is very important to have a complete LinkedIn profile but it is mandatory to add personal information here.
         TIPS
Add your entire Full Name with First Name and Surname.

Do not misspell or complicate your real name with symbols or special characters.

You can also list your mission, motivation and the name of the organisation you work for.
#5: Headline: Mention positions and focus on objectives and hard skills in the headline. Recruiters often search by title to find candidates, so use proper Headlines.
        TIPS
Write interesting and catchy headlines that attract the recruiter's attention at once. For example: "Scrum Master, CSM" or "Digital Marketer, SEO". Keep it crisp for maximum impact.

Mention current role, responsibilities and accomplishments.

Include specific Technical skills and important contributions.

Don't write paragraphs, keep it short within one or two sentences.

Avoid generic headlines and don't copy-paste from the internet.
#6: Summary: Include a strong introduction or summary and update it from time to time. Be sure to write it since it's the first section that Recruiters notice.
         TIPS
Create good impressions, intrigue readers to visit your profile.

Follow the adage 'avoid buzzwords, use keywords'. Get rid of self-promotional sentences.

Use keywords, don't just list, include them in the narrative.

Offer realistic insights about USPs and metrics.

Be clear and specific about accomplishments.

Avoid confusing jargon and don't rehash Intros from the internet.

Personalise and promote your own brand as the Intro.

Be professional, you can list what motivates you for the job.

Search profile summaries on LinkedIn for inspiration and customise one for yourself.

Optimise the Intro to improve readability and update them frequently.

List your USPs or insights in points instead of paragraphs.

Put the spotlight on services that you offer and don't just indulge in self-talk.

List a few hobbies or passions to spark interest from Recruiters.

Obviously, make your Profile Summary or Intro public so that you're discoverable.

If you have any special talents, you can also mention them here.

In the end, include a few Call-to-Actions to make sure Recruiters don't just read past your profile.
For example, "Hi there! I'm looking for a Customer Service Representative role to assist with chat, e-mail and tech support. I'm acquainted with CRM and Intercom.
My objectives include needs analysis, following market trends and designing next-gen products for consumers. During my internship, I handled several customer calls together and I was recognised for client-side communication leads.
I'm self-motivated and interested to work in a company that recognizes team effort and offers growth and opportunity. You can directly reach me out or check my work samples at www.xyz.com"
#7: Skills & Endorsements: A LinkedIn profile allows you to enter upto 50 skills with lots of suggestions. It's easy to select skills but don't go overboard mentioning them all.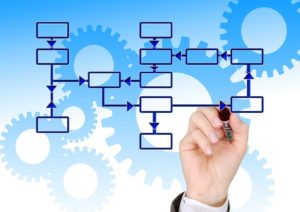 TIPS
Do not inundate your LinkedIn profile with irrelevant talents or generic skills.

Customise skills according to your industry expertise and list them in order of relevancy.

LinkedIn allows you to pin your top 3 skills and arrange the rest as per your preference.

List both Technical and Soft Skills together based on self-assessment.

Use popular abbreviations and contractions instead of writing them entirely.

For skills, use phrases with one or two words without periods.

Appeal to your contacts to get skills endorsed or recommended.

When you are endorsed, accept it and allow it to be visible publicly.
#8: Recommendations: LinkedIn allows you to receive recommendations and personalised testimonials from previous employers and colleagues.
         TIPS
Reach out within professional circles for recommendations that validate your profile and help Recruiters know you better.

If you're formally requesting a Recommendation, create customised invites with snapshots of your profile like who you're, what you do and a personalised message about why it matters to you.

Ensure Recommendations are relevant to the role or position you seek.

If you're recommending someone, focus on time spent together, projects completed or skills developed by that person.
#9: Custom URL: Optimise your Profile further by including a custom URL link that makes finding it easier for Recruiters.
         TIPS
Typically, LinkedIn assigns a default URL that contains parts of your First and Last name and a random string of numbers. 

Try to remove the numbers and make the URL your first and last name. If it's taken, add an initial or the industry name.
For example, linkedin.com/JohnSmith or linkedin.com/IT/JohnSmith instead of www.linkedin.com/JohnSmith6780
A truncated URL is easier to add on a Resume, you can also use URL shorteners like bit.ly to shrink it further.
#10: Experience + Internships: It is the most important part of a LinkedIn profile since it highlights qualifications that Recruiters are most interested in.
        TIPS
Add jobs, internships or contract positions that you held in the Experience section.

LinkedIn represents your career progression by grouping roles held in the same company or if start and end dates are within one month of each other.

Don't use abbreviations. For example: Instead of writing "BDE" , write "Business Development Executive" as Professional Title.

Enter responsibilities in bullet format rather than paragraphs.

Emphasise on recent experiences. Be concrete and quantify responsibilities with numbers or metrics.

Precisely describe duties most relevant for your desired job.

Include at least three bullet points for experiences or internships.

Avoid irrelevant experiences or internships entirely.

If you don't have work experience, mention internships or apprenticeships done earlier.

You can specify your employment type for each individual position like:

Part-time

Full-time

Self-employed

Volunteer

Freelance

Contract

Internship

Apprenticeship
#11: Volunteer Experience & Causes: If you're unemployed, you can actively volunteer and accrue new skill sets.
For example, You may desire a Sales role, but if you organised a nonprofit fundraising event, you can add skills like 'Event Planning' or 'Event Marketing' to appeal to Recruiters.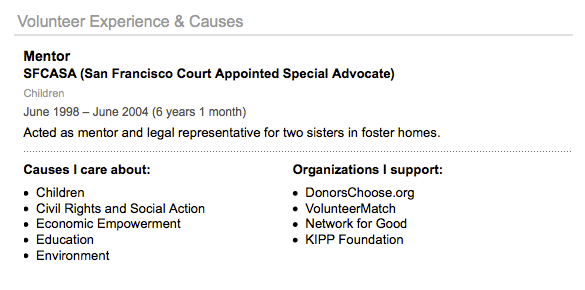 TIPS
Add volunteer roles, causes and organisations you support.

Volunteer Experience makes you a more multifaceted professional and sets you apart from competition.

Volunteer work is equally valuable as Work Experience.

According to a LinkedIn survey, '

41% of Hiring Managers surveyed made a hiring decision based on volunteer experience.
#12: Add-on Sections: LinkedIn offers additional sections for students with no work experience to showcase their accomplishments.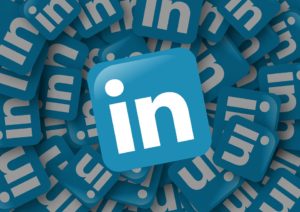 TIPS
         Catch the attention of Recruiters and Hiring Managers with these unique sections:
Projects:

Including projects shows that you can solve real-world challenges and collaborate with teams. Add academic projects or research papers relevant to your profile especially if they boost your professional experience.

Honours & Awards

: Honours & Awards provide objective validation for your accomplishments. If you earned any scholarships or distinguished recognition for your work, add them to your profile.

Organisations

: Participation in on-campus or external organisations shows your contributions outside the classroom. As a fresher you can mention positions such as Monitor, Captain or Prefect that demonstrate Leadership abilities and your impact on organisations.

Test Scores:

If you excelled at standardised tests or have a great CGPA, include these scores on your profile. Employers often view Test Scores as indicators of good  problem solving skills.

Courses:

If you enrolled in courses, enter a few that qualify you for positions you seek or show your professional commitment. For example, Certificate in Digital Marketing or Certificate in Python Programming.
#13: Featured (Samples): LinkedIn allows you to add samples to illustrate your experiences further.
         TIPS
Samples boost your profile and compliment even lack of experience.

Show off your projects or work samples under the "Featured" section.

Ensure the samples pop out, look good and are accessible to Recruiters.
For example, If you're good at content writing, you can include links to your articles or samples or post them directly with engaging multimedia.
#14: Posts (Content): It's important to be active on LinkedIn to stand apart and get noticed by Recruiters. Post and share content using the share menu in the LinkedIn homepage.
         TIPS
Post professional content relevant to your industry and engage with other people's posts.

Focus on topics of expertise, provide insights and share relatable stories.

You can also view post suggestions for future posts based on your interests.

Refrain from fake or inappropriate objectionable posts.

Dedicate at least 10-20 minutes per day and remain active to show up first in searches.

Be consistent and share content with others to increase likeability.

Interact organically, engage in meaningful conversations and post updates related to your profile.

You can also share content on Twitter and other social media platforms or add them to LinkedIn Groups.

Ensure posts are tailored as per desired role or industry and optimise them further as per the Summary section.
#15: Preferences: Mention your job preferences on your LinkedIn profile. It allows Recruiters to know if you're actively looking for a job or just open to opportunities.
         TIPS
Add or edit job preferences and

personalise it

in this manner:
Choose job titles or the

type of job you're looking for

from the

pop up menu.

Let Recruiters know if you're open to work or just looking for opportunities using appropriate toggles.

Mention your preferred job locations or consent

if you're open to remote work

. 

Choose start date preference or inform if you're willing to join immediately.

Enable preferences visibility for your profile. Choose from LinkedIn members or just Recruiters.

Finally, add preferences and LinkedIn will add a badge on your picture saying "open to work" or "open to opportunities".
#16: Interests: Show some personality on your profile by including some hobbies or interests.

          TIPS
To add interests, look up the company or group you're interested in, click their LinkedIn page and follow them.

Ensure that you're engaging and connecting with the right people in your career.

Cultivating an interest base boosts the overall impact of your profile.

Only include relevant interests, you can also rename the section as "Work-related Interests" to appeal to Recruiters more.
For example, you can mention interests like 'Writing' or 'Blogging' if you're interested in becoming a Content Writer.
#17: LinkedIn Groups: If you're active on LinkedIn and made your profile public, you can start networking by joining groups.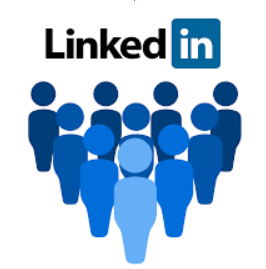 TIPS
Use the search bar on the homepage to find new groups relevant to your industry or profession.

Extend your industry connections by joining groups or start one on your own.

Network organically and cultivate a niche or objective for the group.

LinkedIn makes you discoverable in groups so strategise how you reach out.

Contribute to groups through posts and find your target audience.

Follow all LinkedIn group policies and regulations.

Share insights or experiences, guidance and promote valuable connections.

You can join conversations, answer queries or send message requests to group members.

Show genuine excitement, passion and be respectful towards others.
Conclusion:
LinkedIn is still the best networking and job-search portal in 2022, Recruiters and Hiring Managers look for talent on this platform to leverage its potential and boost your professional career.
Optimise your LinkedIn profile and update it from time to time as per your industry trends.
We wish you all the best and hope our article '[Things to Consider] on a LinkedIn Profile will help you stand out among the crowd of applicants!