Before we find out why Resume Keywords are important, let's understand what are Resume Keywords.

What are Resume Keywords?
Firstly, Resume Keywords are words or phrases that an employer picks up from a resume while searching for the most suitable candidate. This often includes the basic skills and qualifications that the employer expects from a candidate.
For example, a content writer role may include keywords such as:
Skilled in Search Engine Optimization

Skilled in written English

Research

Social Media

Web Content

Copywriting
You can search for keywords in the following places 
Job Description

: Pick up keywords from the job descriptions of all similar job openings. If the job description includes words such as:
Client base

Establishing partnerships/alliances

Prospecting skills

Meeting sales goals
Then, these very words should become your first choice of keywords to be included in the resume.
About us page of the Company

: Find out the qualities that the organization cherishes and include all of those in your resume. Search for the keywords in other companies' websites in the same industry.
Keyword Planner Applications: There are many applications available such as Jobscan which help you choose the right keyword. These applications use ATS Algorithms. 
Why are Resume Keywords so Important?
Resume keywords are that to your CV what spices are to food. Keywords differentiate your resume from the ordinary ones and highly increase your chances of selection. With the right keyword in your resume, you are prepared to tackle the ATS threat. You may wholeheartedly include as many keywords as you desire. Keywords are the primary elements that a recruiter or the ATS extracts from your resume.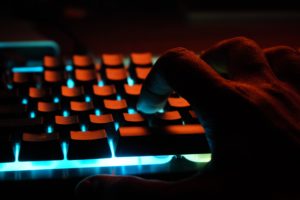 There are many qualified, experienced, and worthy candidates whose applications are rejected solely due to missing keywords. It is smarter to use this information and escalate your resume ratings using the right keywords.   
Inclusion of Resume Keywords in your CV offers the following perks:
Makes identification quick 
In the case of manual selection of candidates, the employer needs to select the right candidate from a very large pool of applicants. Since it is a tedious task, the employers, instead of going through the entire resume, search for resume keywords. All the keywords which match the employer's expectations pave the way forward for a candidate.
Beats the Applicant Tracking System
The ATS or Applicant tracking system is an application used by many organizations for the selection and recruitment process. ATS is driven by Machine learning and Artificial intelligence. If your CV contains the right resume keywords, the ATS will rank it high and you will be selected for the interview. Whereas if you do not include the resume keywords, you will be bottomed out.
Clears the clutter
Keywords highlight the most relevant abilities and achievements and cuts short the long history book for the employer. It is the easiest way to curtail the unnecessary and irrelevant log short. 
Matches the lingo
It portrays that you and your employee are talking in the same precise language i.e. using keywords. Such technical resume keywords make you look familiar with the work and the industry. It makes you look more knowledgeable than your counterparts. 
Emphasizes your achievements
Keywords bring forward all your achievements which are otherwise buried deep down in the resume. Highlighted Resume Keywords flash your achievements exceptionally from within a long written resume.
Helps you escape The-Resume-Black-Hole
A Resume Black Hole refers to submitting your resume into a system where it will never generate any positive result. Resume Keywords will help you avoid this resume black hole.
Bottomline
Finally, a resume packed with keywords is what differentiates a good resume from a bad one. A CV without any resume keyword is just like an examination answer without any scorable points. Dedicate a few hours to keyword research. Find out everything that any employer for similar jobs might be interested in. 
Scan through the website of your company. Scan through other websites of other companies in the same industry. Jot down all the potential keywords. And decorate your resume with these keywords. 
Alternately, you may choose to work smart and use a professional resume building application like cvDragon where you can find pre defined key phrases for your resume.