The way you need a license to sell something, similarly, you need a CV to sell yourself to the prospective employer. 
'CV' or 'Resume' is not just a normal piece of paper you carry to every job interview. It details your skills, training, work experience, and education, and, most importantly, the achievements you have made with past employers. In today's job market, the resume has become the best way to sell yourself to your prospective employer. Before an employer will take valuable time to interview you, they prefer meeting the candidate – on paper. 
In this article you will learn about:
What is a CV?

What is a Resume?

How to create your CV?

How to create your Resume?

Importance of CV and Resume.

Difference between CV and Resume.
All your queries will clear after reading this article. And to make it easier for you to understand we added samples, created with cvDragon.  
What is a CV?
CV stands for "curriculum vitae". Basically a 2-3 page of academic document you carry to every job interview, that describes your school, college, and career in deep detail. 
How to create a CV for a job?
Choose the right

CV format

.

Use a 1-inch margin all the way around.

Use a proper font.

Make a standard 2 to 3 pages long document.

Lead off with basic information and contact details.

Write a CV summary.

Add your work experience and achievements.

Positions held.

Include information in sections that fit your job profile.

List your education, then publication, honors, and achievements, and awards. (all in reverse chronological order)

Save it in PDF format. 
Tip~ Don't confuse a CV with a CV letter. A CV letter is a cover letter, to attach with your CV. 
Here is a professionally created sample of CV by cvDragon for your reference.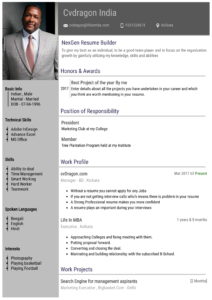 What is a resume?
A resume is a professional document that states a person's career background and skills. A 1-2 page document that gives a basic overview of your school, college, and your skills and hobbies. 
How to create a resume for a job?
Choose the perfect resume format.

Use proper margin and font style.

Don't make it a long document.

Mention your basic info and contact information.

Write a career objective.

Educational details.

Enter your skills, and hobbies and interests.

Mention your school and college achievements.
Tip~ You are not bound to attach a cover letter with your resume, until and unless you are asked for it. 
Importance of 'CV' and 'Resumes'
Your CV or resume will work as a guideline for the recruiter/interviewers when they interview you.

They will cross question you from the statements you have made in your resume.

A resume organizes you in a well-effective manner so that you can assess your skills, and evaluate many employment options open to you.

This helps the interviewer to assign you different projects and responsibilities according to your skills and capabilities. 
There are websites like cvDragon from where you can make a professional resume, as the importance of a resume demands professionalism. 
The difference between a resume and CV in a nutshell:
The basic difference between a resume and a CV is the details we add. 

CV has no length limit but a resume should ideally be 1 to 2 pages long. 

CV details candidates' whole career, a resume gives a basic overlook of a candidate's career.

Resumes are basically for freshers.
Tips~ Some key takeaways you should know for general knowledge. 
As the CV is for applicants in academic roles, resumes are for applicants of any industry. 

A resume is a document preferred by employers in the US and Canada.

A CV is more common in the UK, New Zealand, Ireland, and Germany.

Although the difference between a CV and a resume mostly seen outside India. 

Use keywords, follow a consistent style, and make sure to proofread.
Creating CV by yourself can be tough, but not if there is a professional reference like cvDragon.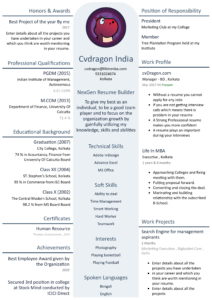 Besides CV and resume there is one more document we need for job interviews, which is;
A Biodata:
Biodata is more about the personal details of the applicants, before the professional details. It includes a person's;
Date of birth 

Nationality 

Gender 

Religion 

Residence 

marital status, and so on.
Tip~ Biodata is mostly for applying to the government jobs, where personal information is more important than your professional details. 
Conclusion:
Job searches nowadays have become complicated and getting a job is even tougher.
But not with a perfect CV or resume. A good CV helps you win half the match by your side and to create a good CV or resume you need to know all the detailed differences and basics about CV and resume, this article will help you understand everything from tip to toe.